Our Story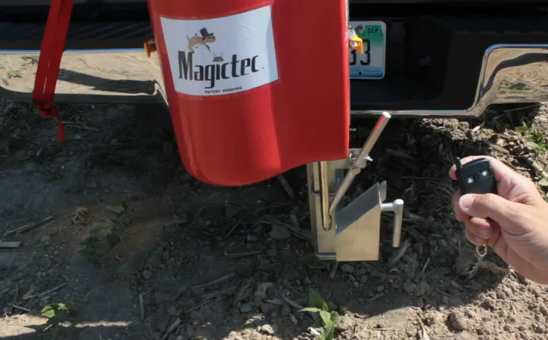 HOW THE MAGICTEC AUTOMATIC SOIL SAMPLER CAME ABOUT...
Hi! I've been involved in site specific soil sampling for the past nineteen years. The Magictec powered soil probe was designed and built because of a desire to have a soil probe that would eliminate walking and still provide full depth soil cores like a hand probe.
After trying several others on the market we also wanted to have something that could be mobile enough to move from one vehicle to another within a short period of time, so if there was a vehicle failure we could still continue sampling. Other powered sampling devices that we have owned utilized hydraulic pumps and hoses and some needed to be powered by a gasoline engine. This made it very time consuming to move and the added noise of the engine was not desirable.

Some of these other powered samplers plugged up quite regularly with residue while others which used a spinning probe would tend to throw the soil out before it could be collected when in dry soil conditions.

Because of the complex design of some of the other models we have used the replacement costs of parts are quite expensive. I wanted to keep things simple to avoid the issues we experienced with the other models we used.

After considering many other ideas the decision was made to build something that could run on 12 volt electrical power as all vehicles have it available. Then the need to provide enough down pressure while maintaining a comfortable cycle speed had to be calculated.

We have ours mounted on the side of a ATV and in real dry soil conditions it will lift the ATV with a person on it off of the ground. Yet you can receive a 8 inch core in less than 10 seconds if the probe is mounted no more than 10 inches from the ground.
Auto Soil Probe by Magictec
Because soil core quality was also important there is an adjustable limit sensor to deliver consistent depth control. After completing the first Magictec unit it was time to field test it. It worked very well first time out. After a few minor adjustments and upgrades it has been working trouble free for ten years and has probed the soil over 1,000,000 times.
Everyone in the agricultural top soil sampling business that have seen it have expressed positive support in the usefulness and features the Magitec provides. So, I have decided to share it with all who it could provide service to.

Please watch the video available on this website and see it in action. Please feel free to contact me if you have any questions or if you desire to own a Magictec powered soil probe of your own.
Ron Marker –Magictec LLC (989) 528-9360 or click here to send us an email